So...I'm sick...again. It seems that Baby No. 3 is really kicking my immune system's, ahem, bum. As the Mr. put it, if there is any shred of sickness anywhere near me I catch it and then it mutates into the worst possible version of itself! What it is probably just a runny nose in any average adult has morphed into a sore throat, migraine, throbbing sinus and cold chills for me. It isn't just pregnancy though...illness is also brought on by stress and a new environment so it isn't totally surprising that I keep falling prey to every little bug that comes my way.
Which brings me to this week's Think Tank. I alluded to the idea in my Resolutions Post in 2011. It took me long enough but I am finally expanding on the notion and introducing my pledge with Kelli, from
Seriously...I think it needs Stitches
, to have a Drama Free 2012.
Here is the awesome button Kelli made just for the occasion! Feel free to grab the HTML on the right and post on your blog... Isn't it optimistic looking?
And here is Kelli's blingy version... You can grab it on her blog here!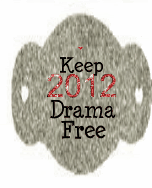 Kelli and I hope to introduce ways to keep the drama OUT of 2012. Pamper yourself, spoil yourself, share your good vibes with others, spread the love, ignore those energy vampires in your life, focus on the people that put a smile on your face! Obviously I need to start on a boosting your health post for myself...hahahahaaa...
I'm curious how you all try to keep drama from taking over your lives. Let me know in a message below!
In the meantime I'd love to know what you are all think tanking these days. Still on target with your 2012 Resolutions and Projects? Link up to Thursday Think Tank so we can all read up on it!
- rebecca lynne
p.s. Today is my official First Day of Work at my New Job. If you have time send me a good wish!!!
Feel free to rattle off anything that has been brewing in your creative heads. It can be anything, quilting, home improvement, fashion, crafting, DIY gifts, cooking...whatever you have recently thought "hmmm, you know what I should create" is perfectly appropriate for the Think Tank. Have a blog? Grab the Thursday Think Tank button displayed on the right.
Please leave a link to your T.T.T. on your blog in the linky party below or leave a comment with your Thursday Think Tank ideas!