Shameless Plug: To enter the MRL 55 Followers Fun Giveaway visit here
.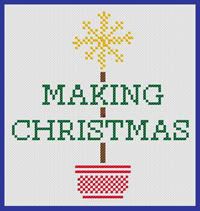 My favorite holiday of the year is Christmas. I know some people might find it sentimental and silly...but I really think that is a magical time of year! It is even truer now that I have two little girls to decorate for and celebrate with. So, I have lots of plans this year to make sure the girls feel the magic and to make Santa feel welcome!
I am interested in joining the
12 Days of Christmas QAL
but first things first. I needed to figure out a palette. Christmas decorating has always been a struggle for me because I like too many different kinds of holiday decor. I love Vintage with the pink/blue/yellow/purple metallic ornaments, I also love classic Red & Green, but my home decor has a lot of brown, antiques with natural wood, and black so those neutrals have to be taken into account too. Plus, I hang a variety of Christmas ornaments ranging from very modern blown glass to extremely ornate faberge eggs (which I have collected over the years). There is no rhyme or reason to the tree decor either. If you haven't gotten the picture -->
I am all over the map when it comes to Christmas Decorating!
And every year I get bummed because it isn't more *matchy* but I can't imagine parting with any one item in particular. Well, that is me in a nutshell, lots of random bits of this and that all mashed up together. Why would I expect Christmas decorating to be any different?
I once read that if you decorate with things you love it will come together...yeah, well that hasn't happened yet over here in the MRL household. Every year I hope to find the secret ingredient that will make all of my bits gel. So this year I am being very careful about it and created this palette. Taking into account the browns of my decor, the antique wood furniture, the bright colorful vintage ornaments, but also the modern ones...this is the palette I came up with:
From there I scoured The Fat Quarter Shop and created this collection of Fabrics. HELLO! I - me, Rebecca Lynne - combined fabrics. This is huuuuuuuuuuge. I didn't just give in and buy one whole collection, quite frankly none of them suited. No, I took the time and made my own palette up. What? Boy am I learning...
From left to right: Jovial Mistletoe Nordic,
Sleigh Ride Slate Tiny Festive Dots,
Northern Cardinals Brown Spice Diamond Dot,
Holiday Charm Green Plaid,
Jolly Snowmen Dark Olive Snowflakes and Peppermints,
Scandinavian Christmas Charcoal Starlight Star Bright,
O'Tinsel Tree Celebration Candy Canes & Dots,
Fa La La La La Oyster Fa-la-la-la-la,
Jovial Pajamas Naughty,
Sleigh Ride Vintage Allover Stockings,
Jovial Pajamas Naughty,
Holiday Celebrations Yellow Glitter,
Jolly Snowmen Red Snowflakes and Peppermints
I really love the way it looks on the computer. I can only hope it looks this good in person. Still very colorful, not too many cutesy Christmas prints, and I will use the neutrals more often at the request of the Mr. to keep it all balanced with my home decor. But the color is good for the children too without being too too, yes?!
The plan? Table Runners. Yup. Can't wait!!!
So, do you have any holiday sewing you will be doing? Joining the QAL? Do tell...
- rebecca lynne