I am literally taking a break from quilting the
H&H Quilt
to quickly write a post to link up to
Janine at Rainbow Hare Quilts
. I missed her link-up last week...because I was announcing
her win of the 55 Fun Followers Giveaway
.
[I know Janine has been busy and probably hasn't read her "you won" email from me or read MRL in a bit so I don't think she knows she won yet... Heh heh, Janine hopefully you are checking out this post!!! ;)]
So onto this week's
Making Christmas
...
As I wrote
on my last Making Christmas Post
I figured out my Christmas palette and fabrics for this year. Here they are in person!
In case there is any doubt. I LOVE THESE FABRICS!!! So what could I possibly be making with these lovelies?
- 12 Days of Christmas Sampler QAL - allegedly starts tomorrow
- Table Runners - design figured out, have to find time to cut/sew you know the usual...
Plus I have my
To Be Made as Gifts List
:
- 3 Crayon Rolls
- 2 Marker Rolls (hey, what can I say these kids are picky)
- Finish my secret project
- Get the TBs top done (pfft)
Oh AND I'd really like to make the girls stockings. I have stockings I can use for them...but they aren't special Just For Them stockings. So it would be cool if I could get myself together enough to make ones just for them. But, I'd rather wait another year if it means making them better as opposed to rushing. Which is why it goes on the floating list...i.e. this paragraph.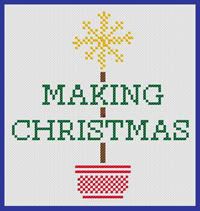 - rebecca lynne